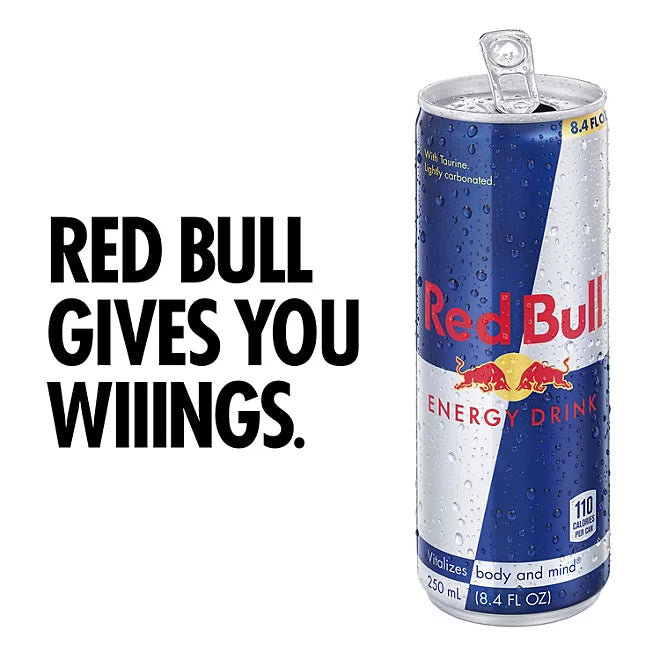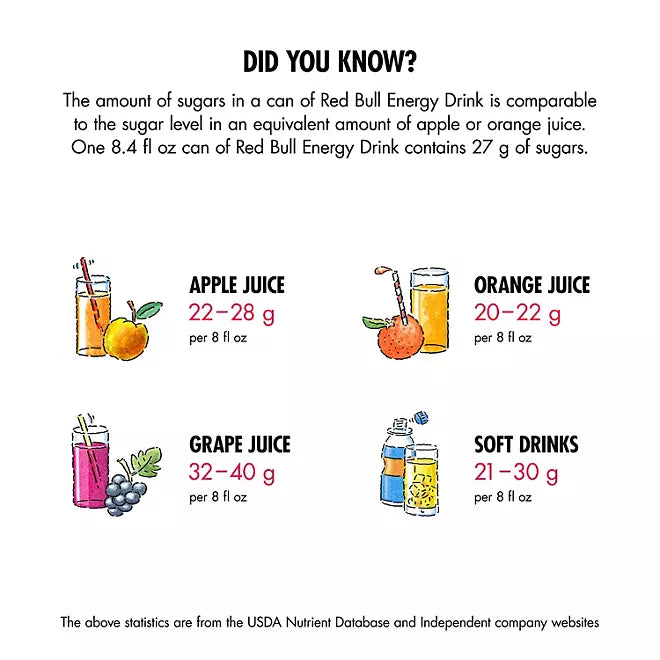 RED BULL Energy Drink // 8.4 fl. oz
Pickup available at 326 Main Street - UNIT 101
Usually ready in 4 hours
RED BULL Energy Drink // 8.4 fl. oz
326 Main Street - UNIT 101
Pickup available, usually ready in 4 hours
326 Main Street
Unit 101
Danville VA 24541
United States
+14344892160
Designed to help you focus and enhance concentration, this Red Bull Energy Drink is an absolute essential for anyone interested crushing the competition.
How Does a Red Bull Energy Drink Give You Energy?
With one sip of Red Bull Energy Drink, you'll experience a blast of sharp, tongue-pleasing deliciousness that's tough to ignore. Aside from being tasty, it can also provide the burst of energy that you need to get through the day. This energizing effect is a direct result of its ingredients. In one can, you get a burst of caffeine, more than enough to turn up the heat. If you're looking for energy, you can't go wrong with this Red Bull 24-pack.
Is a Red Bull Energy Drink Healthy?
Red Bull Energy Drinks are popular among athletes, rock stars and busy professionals for many different reasons. However, one reason may be because a Red Bull can is filled with healthy ingredients. Within one can, you get essential micronutrients like B-Group vitamins, which are required for maintaining good health. On top of that, Red Bull contains natural amino acids, which can be useful as well. When you combine these ingredients with caffeine, which has been stimulating minds and energizing individuals for centuries, it's easy to see why Red Bull Energy is so popular.
Red Bull Energy Drink Pack
With 24 cans in one box, this is a great choice for anyone looking for a fast and easy way to restock vending machines or refill refrigerators. The box itself is made out of solid cardboard, so it can be strong enough for safe storage in cabinets, pantries and shelves. If you ever need to distribute drinks to a large number of people, a box like this can be convenient.
Handy and Travel-Friendly
Each eight.four fl.oz can is thin and easy to hold. This makes it an excellent drink to carry with you while you're on the road. If you want to quench your thirst and reenergize yourself during the day, packing a Red Bull Energy Drink into your bag is super easy. Take it with you to the gym, the office or the library so you can remain focused on the task at hand.