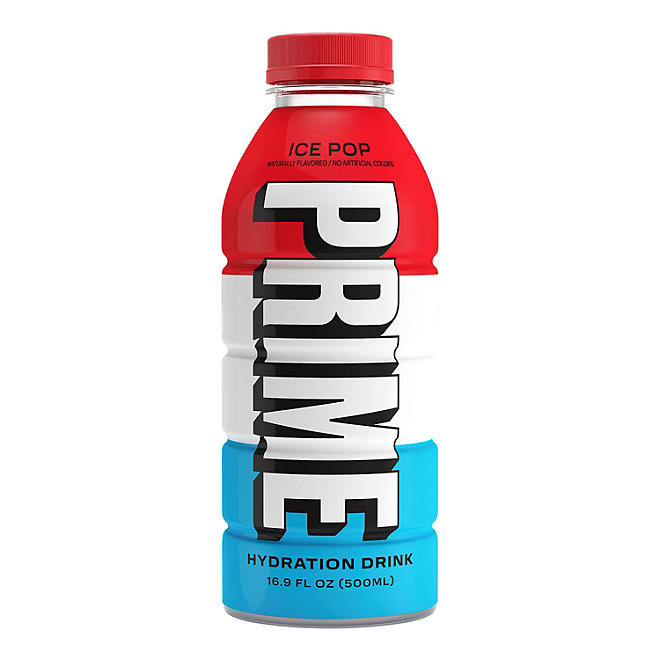 PRIME Hydration Drink - ICE POP // 16.9 fl. oz
Pack in optimal hydration with the thirst-quenching flavor ICE POP with the Prime Hydration Ice Pop 15-pack. Each pack contains 15 bottles (16.9 fl. oz. each) of this fantastic season flavor of Ice Pop.
The Perfect Combination of Flavor and Function
Founders Logan Paul and KSI are changing how you refresh, replenish and refuel*.
Refresh - With 15 bottles of your favorite seasonal flavor and no added sugar means you're getting the taste you want—without anything you don't want.
Replenish - 10% coconut water is packed with 834 mg of electrolytes you sweat out. 250 mg of BCAAs help you replace the amino acids activity burns*.
Refuel - Vitamins B, C and E plus zinc for immune health help you be ready for whatever is coming next*.
A Better-for-You Option
Prime Hydration Ice Pop has only 20 calories per bottle, is gluten-free, is caffeine-free and tastes just like a summer day. Prime Hydration was developed to fill the void where great taste meets function. With bold, thirst-quenching flavors to help you refresh, replenish and refuel, Prime is the perfect boost for every endeavor. They're confident you'll love it as much as they do. Humbly, the Prime team.